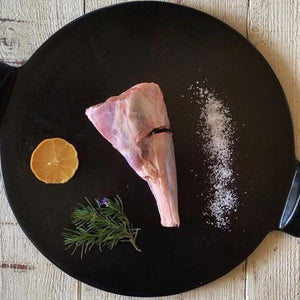 The succulence of our Rack of Lamb, a premium cut sourced from our pasture-raised lambs. Averaging 1 pound This show-stopping culinary centerpiece features a beautiful rack of tender lamb ribs, known for their delicate texture and exquisite flavor. Our ethically-raised lambs graze on lush pastures, ensuring superior meat quality and a dining experience that satisfies the most discerning palates.
To highlight the natural flavors of the Rack of Lamb, season it with a simple yet flavorful blend of herbs such as rosemary, garlic, and thyme. Sear the rack in a hot pan to develop a golden crust, then finish it in the oven to achieve a perfect medium-rare or medium doneness.
Serve the Rack of Lamb with a side of creamy mashed potatoes, roasted root vegetables, or a refreshing citrus-infused salad. Consider drizzling a rich balsamic reduction or a tangy mint sauce over the lamb ribs to enhance their taste even further.
Impress your guests or elevate your own dining experience with the exceptional quality of our pasture-raised Rack of Lamb. Each chop embodies our commitment to ethical farming practices and outstanding taste, ensuring a memorable and sophisticated meal that will leave a lasting impression.
All of our beef is finished here at the Foggy Bottoms on verdant green pastures. Utilizing regenerative farming practices we aim to sequester carbon and promote biodiversity for healthy ecology and communities. All of our hunks of meat are USDA wrapped at our local processing facility within 20 minutes of the farm. Currently, our beef is available by local delivery from Rio Dell to McKinleyville, Farmers' Markets and Jersey Scoops Pick-Up. Please subscribe to our newsletter for updates and new release dates!