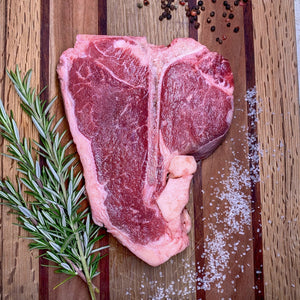 Indulge in the ultimate steak experience with our Porterhouse Steak, a premium cut sourced from our pasture-raised beef. Averaging 1.5 pounds this impressive steak, known for its size and tenderness, combines the best of both worlds with its richly marbled strip loin and tender filet mignon. Our ethically-raised cattle graze on nutrient-rich pastures, ensuring superior meat quality and a dining experience fit for connoisseurs.
For a truly exceptional dining experience, grill or broil the Porterhouse Steak to your desired level of doneness. Let the high heat sear the exterior, creating a flavorful crust, while keeping the interior tender and juicy. Pair this magnificent steak with classic steakhouse accompaniments such as a loaded baked potato, grilled asparagus, or a crisp wedge salad. A rich red wine or a creamy béarnaise sauce can elevate the flavors even further.
The Porterhouse Steak is a statement piece, perfect for special occasions or when you crave an extraordinary steak experience. With its melt-in-your-mouth tenderness and bold flavors, our pasture-raised Porterhouse Steak will leave a lasting impression on your palate. Enjoy the pinnacle of steak perfection, crafted with care and passion for meat lovers like you.
All of our beef is finished here at the Foggy Bottoms on verdant green pastures. Utilizing regenerative farming practices we aim to sequester carbon and promote biodiversity for healthy ecology and communities. All of our hunks of meat are USDA wrapped at our local processing facility within 20 minutes of the farm. Currently, our beef is available by local delivery from Rio Dell to McKinleyville, Farmers' Markets and Jersey Scoops Pick-Up. Please subscribe to our newsletter for updates and new release dates!