Bulk Beef Extravaganza
Foggy Bottoms Boys presents...
Bulk Beef Extravaganza:
An Unforgettable Farm-to-Table Experience!
September 29th-October 1st, 2023
Are you ready to embark on a culinary adventure like no other? Look no further than Foggy Bottoms Boys' Bulk Beef Extravaganza! This one-of-a-kind immersive agritourism event will provide two tickets and up to four additional guests unseen insights in the world of Regenerative, Farm-To-Table living. Upon payment of deposit, you gain access to this unique opportunity to buy an entire pasture-raised beef (400 pounds,) and tour the farms that produce one of the most exceptional grass-fed protein in the nation.
Only 10 Whole Beef Shares Available!
Join us in the beautiful Victorian Village of Ferndale, CA for an unforgettable gastronomic journey in the heart of Humboldt County. 
Foggy Bottoms Boys: A Legacy of Regenerative Excellence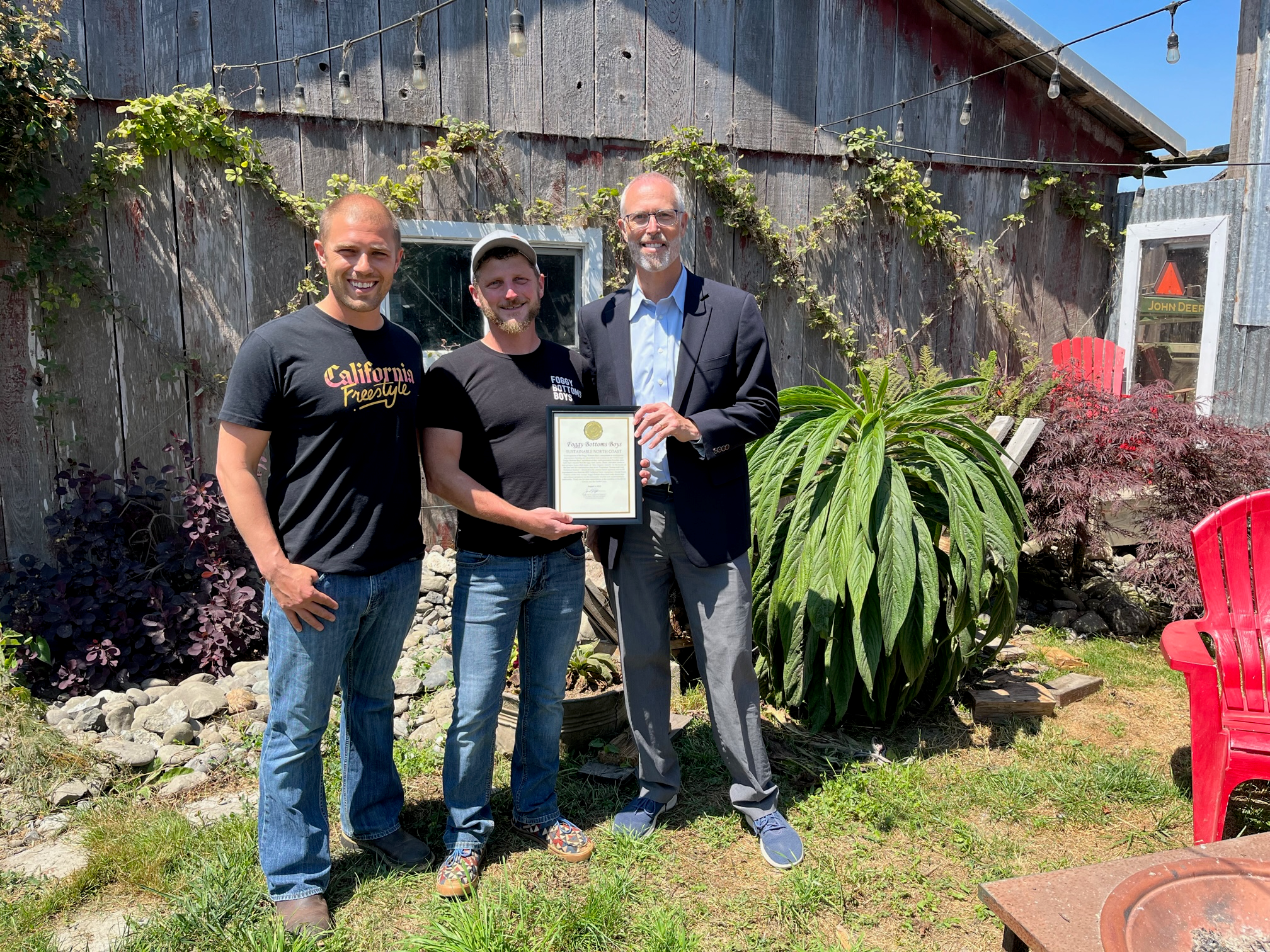 Foggy Bottoms Boys is a sixth-generation, Gay-owned regenerative farm nestled along Northern California's enchanting Redwood Coast. Here, the harmony between sustainable farming, ethical animal care, and climate-resilient practices is a way of life. Our farm's dedication to rejuvenating the land, nurturing the animals, and preserving nature's balance is etched into every ounce of the beef we offer.
1. Climate Beneficial Practices - Foggy Bottoms Boys was recently awarded the Congressional Honor 'Sustainable North Coast' award for their commitment to climate-beneficial agriculture and creating resilient communities. They were also recognized by CAFF as the 'Climate Smart Farmers of the Year' in 2023. Through a holistic approach to pasture-based grazing, we are able to sequester one ton of Co2 per acre of pasture each year. 
2. 100% Grass-Fed & Pasture-Raised - Grass-Fed beef boasts a superior nutritional profile compared to its grain-fed counterpart, with higher levels of essential vitamins and minerals. It also offers a more balanced ratio of omega-3 to omega-6 fatty acids, which can reduce inflammation and support cardiovascular health. Furthermore, Grass-Fed beef contains CLA (Conjugated Linoleic Acid), a naturally occurring fat to improve body composition by increasing lean muscle mass, positively influence heart health by lowering LDL cholesterol and triglycerides, and provide antioxidant protection against oxidative stress and cellular damage.
3. Locally Raised, Grazed, and Processed - Our cattle graze freely on lush, green pastures just 15 miles from where they are processed -- ensuring a significantly lower environmental impact than conventional options. This results in meat that is not only tastier, but also much more sustainable. Taste the freshness and savor the superior quality of our pasture-raised beef, a true testament to the care and dedication of our local farmers and processors in Humboldt County.
4. Support LGBTQ+ Business - Supporting gay farmers is not just about promoting inclusivity and diversity in the agricultural sector; it's about fostering an inclusive farming community where everyone has an equal opportunity to thrive and contribute to our local food systems. By championing gay farmers, you promote diversity and equity within a traditionally heteronormative field. These farmers work tirelessly to produce the food that sustains us, and when you support them you endorse equality and strengthen our community's agricultural resilience. Encouraging a more inclusive and compassionate agricultural landscape benefits us all, reinforcing the values of equality and acceptance that should be at the heart of every industry. 
The Experience
Farm-to-Table Dining
Indulge your taste buds with an unforgettable farm-to-table dining experience, featuring our pasture-raised meats and locally-grown produce. Savor the incredible flavors of Humboldt County as you enjoy mouthwatering seasonal dishes prepared by our talented chefs. From tender steaks to farm-fresh fruit salads, each meal will be a seasonal culinary masterpiece.
Exclusive Farm Tours
Get ready to witness first-hand the magic of regenerative agriculture in Humboldt County. Exclusive farm tours will take you behind the scenes to explore the practices that make our beef, lamb, poultry, and dairy so extraordinary. Learn about ethical animal husbandry, ecological conservation efforts, and the unwavering dedication of our farmers to help reverse the effects of climate change through regenerative agriculture. 
Hands-On Farming Demonstrations
Ever wondered what it's like to be a farmer? Now's your chance! Participate in hands-on farming demonstrations and gain a deeper understanding of the hard work and dedication that goes into producing premium grass-fed beef. From feeding the animals to walking the pastures, you'll get your hands dirty and have a blast doing it!
Meet & Greet with the Farmers
Meet the fabulous gay farmers who make it all happen. Engage in conversations, ask questions, and learn about their commitment to regenerative resilient communities. It's a rare opportunity to connect with the people behind your food and gain insights into their daily lives. 
Your Stay: Historic Eagle House in Old Town Eureka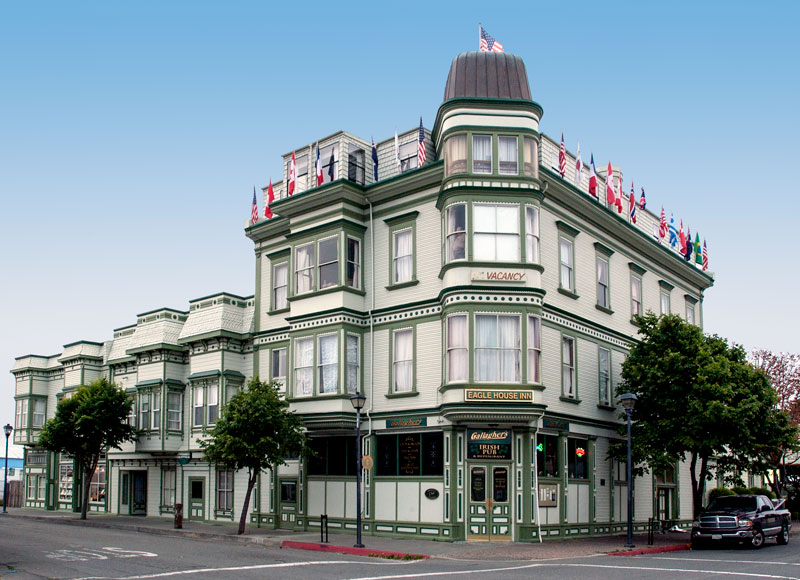 Your adventure includes a two-night stay at the beautiful Historic Eagle House in Old Town Eureka. This Lesbian owned gem, built in 1888, offers a glimpse into the region's rich heritage while providing you with all the modern comforts you deserve. Relax in style and immerse yourself in the ambiance of this beautifully restored Victorian-style landmark. Upon payment of deposit, you will receive instructions via email to select your room. Reservations are first come, first served -- act fast to ensure you secure your premium room. View your room options here!
Book Your Bulk Beef Extravaganza Adventure Now!
Don't miss out on this once-in-a-lifetime experience! The Bulk Beef Extravaganza promises an unforgettable opportunity that will deepen your appreciation for local foods, sustainable farming, and the incredible beauty of California's Redwood Coast. Join us in Ferndale, CA to celebrate the very best in regenerative agriculture, Farm-To-Table dining, and the vibrant spirit of Humboldt County. Secure your spot now with your deposit, and prepare for a truly extraordinary experience September 29th - October 1st, 2023!