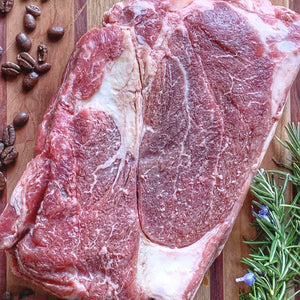 Savor the robust flavors of our Chuck Steak, a tantalizing cut sourced from our pasture-raised beef. Averaging .85 pounds this meaty delight, originating from the shoulder region of the animal, boasts rich marbling and exceptional tenderness. Our ethically-raised cattle graze freely on lush pastures, ensuring the finest quality meat for your enjoyment.
Chuck Steak excels when cooked with care. Marinate the steak in your favorite blend of herbs and spices, then grill or sear to perfection. The result is a juicy, flavorful steak that pairs beautifully with hearty sides like roasted vegetables or creamy mashed potatoes. Whether enjoyed as a standalone dish or incorporated into stir-fries or salads, our Chuck Steak promises a satisfying and memorable dining experience.
All of our hunks of meat are USDA wrapped at our local processing facility within 20 minutes of the farm. Currently, our beef is available by local delivery from Rio Dell to McKinleyville, Farmers' Markets and Jersey Scoops Pick-Up. Please subscribe to our newsletter for updates and new release dates!