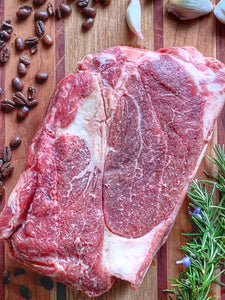 Enjoy the bold flavors of our Flank Steak, a versatile cut sourced from our pasture-raised beef. Averaging 1.15 pounds this lean and flavorful steak, obtained from the abdominal region of the animal, offers a robust taste and a satisfying texture. Our ethically-raised cattle graze on nutrient-rich pastures, ensuring high-quality meat for your enjoyment.
For a delicious Flank Steak, marinate it in a blend of your favorite herbs, spices, and citrus juices to enhance its natural flavors. Grill or broil the steak to medium-rare, then slice it thinly against the grain for maximum tenderness. Serve it as the star ingredient in fajitas, stir-fries, or on top of vibrant salads. Its bold flavor profile also pairs well with chimichurri sauce or a tangy salsa. Embrace the versatility of our pasture-raised Flank Steak and elevate your meals with its robust taste and tender texture.
All of our hunks of meat are USDA wrapped at our local processing facility within 20 minutes of the farm. Currently, our beef is available by local delivery from Rio Dell to McKinleyville, Farmers' Markets and Jersey Scoops Pick-Up. Please subscribe to our newsletter for updates and new release dates!